Water Jet Materials
The following is a list of materials that we can cut and process with our waterjet equipment. If you are interested in components from other materials do not hesitate to ask.
Soft rubber
Hard rubber
Foam
Foil
Carpet
Paper
Cardboard
Gasket material
Aluminium
Stainless Steel
Copper
Plastic
Nylon
Graphite
Many ceramics
Carbon 

fibre

Composites
…all sorts of other soft materials
Jointing Materials
Paper
Board
Soft Gasketing
Natural Rubber
Nitrile Rubber
Neoprene
EPDM
Viton
Hypalon
Cork
Rubber Bonded Cork
Silicone
Glass Fibre Jointing
Foam
PTFE
Plastics & Composites
ABS
Acrylic
Nylon
Polyacetal
Polycarbonate
Polyethylene
Polypropylene
Polyurethane
Polystyrene
PTFE
GRP
Aramid
Carbon Fibre
Plastic Sponge
Foam
Miscellaneous
Cardboard
Plywood
Hardwood
Millboard
Foil
Graphite
Ceramics
Fibreboard
Fibreglass
Wire Loaded Silicone
Metal Loaded Silicone
Reconstituted Foam
Self Adhesive Foam
Felt
Fabric Webbing
Other Products
Diaphragms
Extrusions
Fabrications
Filters
Flange Gaskets
Gaskets
Insulation
Joint Rings
Jointing Materials
Mouldings
Pads
PTFE Envelope Gaskets
Rubber Strips
Self Adhesive Strip
Washers
Polyurethane Sheeting
GP Products are major suppliers of polyurethane sheeting to trade & wholesale customers across the UK & Ireland. We are able to supply your requirements for high quality sheeting to a maximum size of 3 Metres x 1 Metre in virtually any thickness. Delivery time is usually 3-4 weeks from order placement.
All our products conform to current European standards & are made to exacting specifications.
Polyurethane is one of the world's most versatile materials. There are many applications where Polyurethane offers major advantages over traditional rubber components especially where friction is an issue. Popular uses include conveyor belting, chain guides, shock resistant pads, industrial wheel coverings, roller coverings, industrial flooring, blast screens, gaskets & shims, motor mounts etc.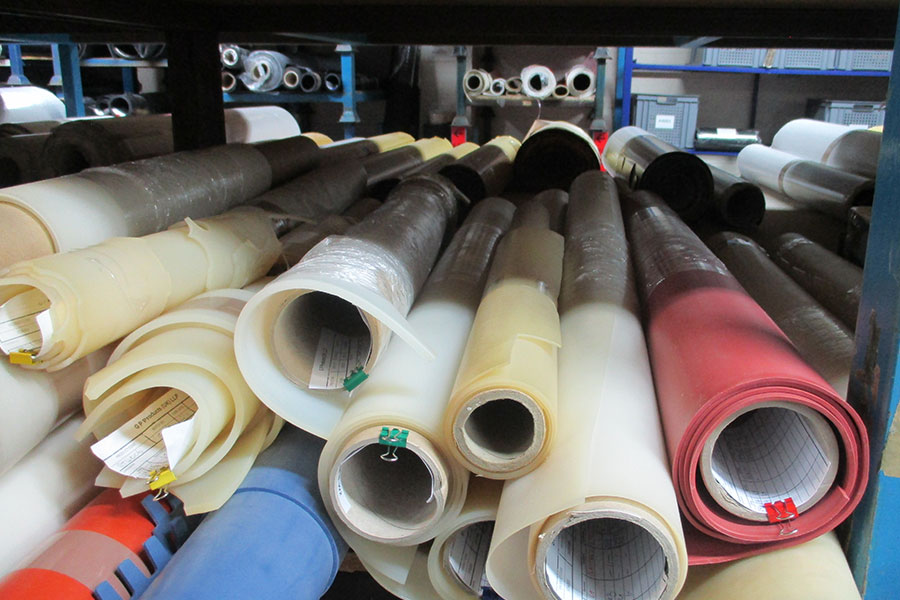 We can produce sheeting in shore hardness's from 65-93 & in formulations that suit operating temperatures from -40°C to +70°C on a continual basis (+100°C for short periods).
Our technical sales team will be pleased to advise the correct grade for your requirement. We can supply you with the correct product for use in environments where noise reduction is required or where the item is to be machined.
Some polyurethane is also suitable for use in water & all is highly resistant to ozone & oxygen attack. These products also have very good insulating properties & make them ideal for electrical insulation & mounting conductive rails.
Gaskets and Seals - Material Application Chart
Gasket & Seals Manufacturing Materials. As an independent company we can source materials from all major material manufacturers
NATURAL RUBBER
Black, White Food, Red, Tan & Insertion
+ Very good mechanical properties
Temp Range
-30oC +80oC
+ Fair / moderate weather resistance
Hardness Range
35o - 90o
+ Fair / good alkali and acid resistance
Stock Range

1mm

to

50mm

- Affected by oils, fats, fuels &

oxidising

agents
SPONGE RUBBER
Available in Neoprene Natural, E.P.D.M. and Silicone
Open and Closed Cell
Temp Range
-20oC +110oC
Hardness Range
Soft-Medium/Hard
Stock Range
1.5mm to

50mm
BUTYL RUBBER
+ Excellent gas impermeability
Temp Range
-20oC + 90oC
+ Very good weather resistance
Hardness Range
60o - 65o
+ Excellent resistance to solvents
Stock Range
1mm to 12mm
- Affected by oils & fats
RUBBER CORK
+ Compressible with negligible lateral flow
Temp Range
-30oC + 150oC
+ Resistant to fuels, oil, solvents and
refrigerants
Stock Range
0.8mm to 12mm
+ Excellent thermal insulation properties
FELT
+ High quality wool and synthetic
Temp Range
-20oC +100/150oC
+ Suitable for oil retention
Density Range
26grm - 60grm
+ Suitable for door seals and mounting pads
Stock Range
0.8mm to 25mm
P.T.F.E.
+ Good mechanical strength
Temp Range
-100oC + 250oC
+ Non-toxic
Hardness Range
50o - 65o
+ Outstanding anti-stick properties
Stock Range
0.01mm to 12mm
+ Extremely low co-efficient of friction
+ Unaffected by weathering
+ Excellent dielectric properties
+ Will not burn
NEOPRENE RUBBER
Black, White Food & Insertion
+ Excellent weather resistance
Temp Range
-20oC + 90oC
+ Good mechanical properties
Hardness Range
40o - 80o
+ Commercial quality & BS 2752 grades
Stock Range
1mm to 25mm
+ Moderately resistant to oils and fats
- Poor low-temperature properties
NITRILE RUBBER
Black and White Food
+ Excellent resistance to oils and fuels
Temp Range
-20oC + 110oC
+ Good hot oil resistance
Hardness Range
40o - 90o
+ Good mechanical properties
Stock Range
0.5mm to 25mm
+ Good Alkali and acid resistance
+ Moderate weather resistance
+ Commercial quality & BS 2752 grades
- Moderate elasticity
SILICONE RUBBER
White Food, Red, Blue, Translucent
+ Heat resistance up to + 250oC
Temp Range
-50oC + 250oC
+ Retains flexibility in extremely low temps
Hardness Range
20o - 80o
+ Excellent weather resistance
Stock Range
1mm to 10mm
+ Excellent electrical resistivity
+ Moderate oil and fat resistance
+ Moderate fuel resistance
- Poor Mechanical properties
PROOFED WOVEN JOINTS
+ Resilience ideal for sealing uneven or
unmachined flanges
Temp Range
-20oC + 250oC
+ Soft joints for boiler doors etc
Pressure Range
10 bar
+ Folded to size required
Stock Range
1.5mm folded
up to 6mm
+ In rubber coated glass or Aramid fibre, with
or without wire reinforcement
GRAPHITE
Laminated or Foil
+ Non-toxic
Temp Range
200oC + 3000oC in non-oxidising conditions
-200oC + 500oC in oxidising conditions
+ Electrically conductive
Pressure Range
300/400 bar
+ Excellent chemical resistance
Stock Range
0.2mm to 3mm
- Affected by Sulphuric and Phosphoric acids
>ETHYLENE PROPYLENE
E.P.D.M.
+ Water Research Council Approved
Temp Range
-40oC + 100oC
+ Excellent weather resistance
Hardness Range
50o - 80o
+ Good heat resistance
Stock Range
0.5mm to 12mm
+ Good low temperature properties
+ Resistant to steam temperatures up to 150o
continuous
+ Good mechanical properties
+ Good resistance to polar solvents
(esters, Ketones)
- Affected by oils and fats
VITON®(Dupont Ltd)
+ Excellent chemical resistance
Temp Range
-20oC + 220oC
+ High temperature
Hardness Range
50o - 70o
+ Self extinguishing
Stock Range
0.5mm to 6mm
- Not resistant to Acetone
COMPRESSED SYNTHETIC FIBRE
+ For high temperature joints
Temp Range
-30oC + 450oC
+ Glass or Aramid fibre or Graphite/Aramid
Pressure Range
100 bar
+ To BS 7531 : X & Y
Stock Range
0.25mm to 3mm
- Hard material requires high bolt loading
- Consideration for steam usage required
VEGETABLE FIBRE (PAPER) JOINTING
+ Excellent resistance to fuel and vegetable
oils, petroland petroleum distillates
Temp Range
-22oC + 120oC
+ Resistant to fungoid growth
Max Pressure
20 bar
+ Free from Rubber
Stock Range
.006" to .25"
(0.15 to 6.4 mm)